Chicago reporter William J. Kelly Sues Lightfoot
Read about the lawsuit Remember America filed on behalf of reporter William J. Kelly here.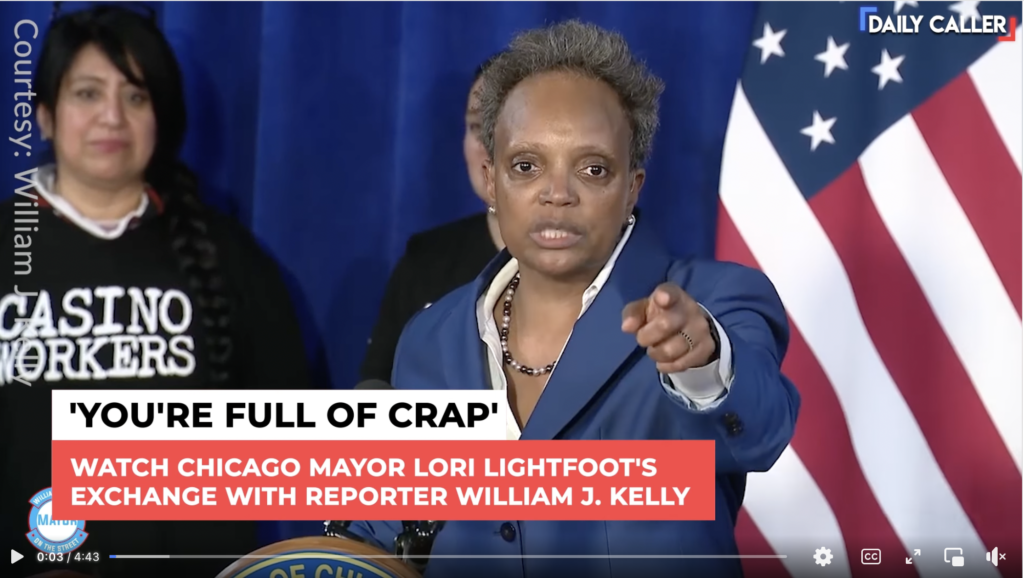 Chicago Reporter William J. Kelly Files Federal Lawsuit Against Mayor Lightfoot
Chicago, IL, August 26, 2022 – Viral reporter William J. Kelly has filed a federal lawsuit against Mayor Lori Lightfoot and Chicago Police Supt. David Brown after his media credential was "wrongfully revoked" in violation of the First and Fourteen Amendments to the Constitution. The civil rights lawsuit, filed Thursday, also seeks immediate injunctive relief to restore Kelly's Chicago media credentials. Kelly's questions to Lightfoot on violent crime have regularly gone viral on social media and news websites with millions of views.
The lawsuit states, in part: "Because Kelly in his role as a reporter and journalist has caused great embarrassment for Lightfoot by asking the hard and embarrassing questions about her obvious failure as mayor, and because this has and would continue to hurt her chances of being re-elected, Lightfoot has directed Brown to revoke Kelly's City of Chicago press credentials which prevent Kelly from attending any more of her press conferences."
The lawsuit goes on to say, "In fact, on April 25, 2022, Tucker Carlson, who has the most-watched network news show in the United States, stated on the air that Kelly was "one of the very few journalists left in Chicago."
Kelly's attorney says that the Mayor's pretext for revoking her client's media credentials is based on a video on the Daily Caller's Facebook page. The July 19th video shows Kelly being physically harassed by one of Mayor Lightfoot's 70+ bodyguards while attempting to ask Lightfoot a question about her lop-sided NASCAR street racing deal. Earlier, the video also shows Lightfoot scolding Kelly to wait his turn to ask a question and then abruptly ending the press conference prior to him asking one.
To revoke Kelly's credentials "Brown, following Lightfoot's instructions, directed a police officer assigned to Lightfoot's seventy (70) officer strong security force to fabricate a report that Kelly had bumped into him on July 19, 2022. Brown then used this false report as a pretext to revoke Kelly's press credentials on August 8, 2022," the lawsuit states.
"At a time when Chicago is short 1,500 police, Mayor Lightfoot is using 90 officers to protect her from answering embarrassing questions from me. But who is protecting the people of Chicago from violent crime?" asks Kelly. Kelly says Lightfoot's 90-officer security force should be reassigned to protect the people of Chicago.
Last year, Lightfoot was successfully sued by Judicial Watch on behalf of the Daily Caller News Foundation after Lightfoot began discriminating against white reporters and denying them interviews on the basis of race. Kelly's lawsuit also claims that Mayor Lightfoot discriminates against Kelly, who is white and male and has repeatedly attacked Kelly for appearing on FOX News and for his media affiliations for more than a year.
Visit Kelly's First Amendment defense fund website to read the legal complaint against Mayor Lightfoot here.